You are here:
Home
The future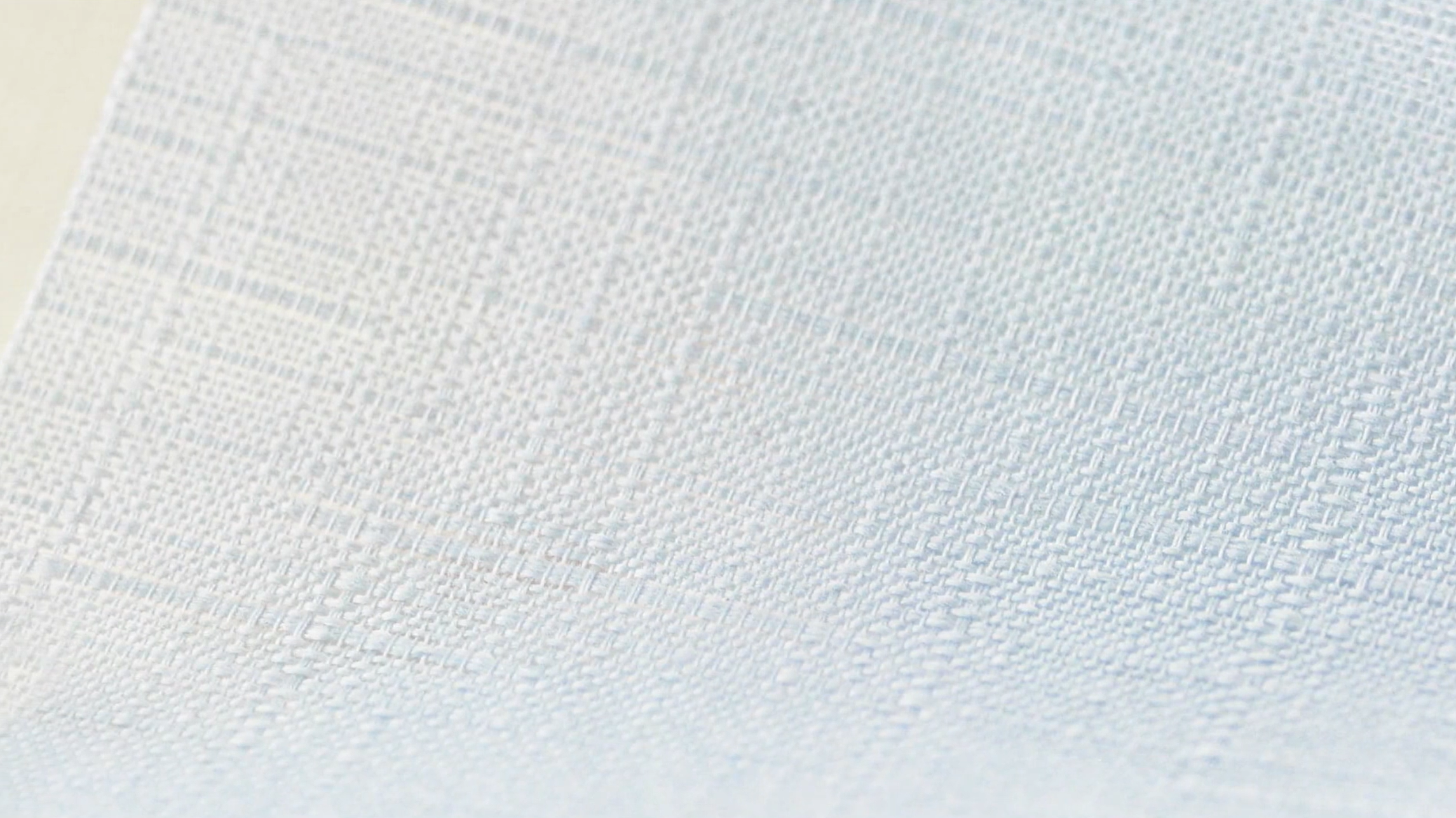 At Lienesch, we take responsibility for our product range. We carefully reflect on the choices we make and what effect they have on the world and its inhabitants. For us, sustainability is not a marketing tool. We try to take it into account in all aspects of our operations. This means mapping out how much carbon dioxide CO2 we emit with our offices and production space, but also ensuring that our suppliers treat our products and thus our world responsibly. This is very important to us.
responsible sourcing
responsible sourcing
responsible manufacturing
responsible manufacturing
responsible products
responsible products
valuable partnerships
valuable partnerships
social responsibility
social responsibility
The Future
responsible sourcing
Ideally all resources are used effectively and in a cyclical way (as opposed to a linear way). Our sustainable fabrics are a great example of upcycling oil-based plastics or recycling post-consumer PET.
responsible manufacturing
Developing and producing only what really matters. For instance, by making a well-considered choice of raw materials to be used (recycled), by only producing what is needed and by making the production of our fabrics as sustainable as possible with the use of renewable energy.
responsible products
High quality, long lifespan products, made with fair, traceable materials and honest manufacturing processes is what we constantly keep aiming for. And most of the time, the fabrics are made from European post-consumer recycled polyester. With which we make a real contribution to a better future of our planet.
valuable partnerships
With "Creating the future together" as our motto, the choice of this cornerstone within Lienesch is more than logical. Only together with our partners, suppliers and customers can we make a difference.
social responsibility
For us, this includes sustainable employability and the vitality of our employees, but also the social and family aspect within Lienesch, paying attention to the individual needs of employees. Lienesch believes in inclusion and diversity and has been sponsoring local charity organisations for years.
mapping our carbon footprint is the foundation
The carbon footprint represents the total volume of greenhouse gases (GC) resulting from our everyday economic activity. Knowing our carbon footprint, which is measured in tons of CO2-emissions, is important when it comes to taking measures and launching initiatives to reduce it to the lowest possible level. It all starts with what each employee does every day.
scope 1, 2 and 3 emissions
It all starts with mapping the scope 1 emissions. These emissions are direct emissions from our own operations, incl. fuels combusted in company cars. SmartTrackers is used to map the Lienesch emissions under Scope 1.
Scope 2 emissions are emissions from the generation of purchased or acquired electricity, heating or cooling used by our company. They occur at the facility where e.g. electricity is generated, not in our company. Lienesch only uses electricity from renewable sources.
Scope 3 emissions are all indirect emissions that occur in the value chain of our company. To reduce our Scope 3 emissions we are in constant contact with our partners in the supply chain. We also put efforts in designing products according to the principles of circularity and/or to use recycled content, mono-materials  as much as possible, in order to reduce embedded emissions across all phases of the product life cycle.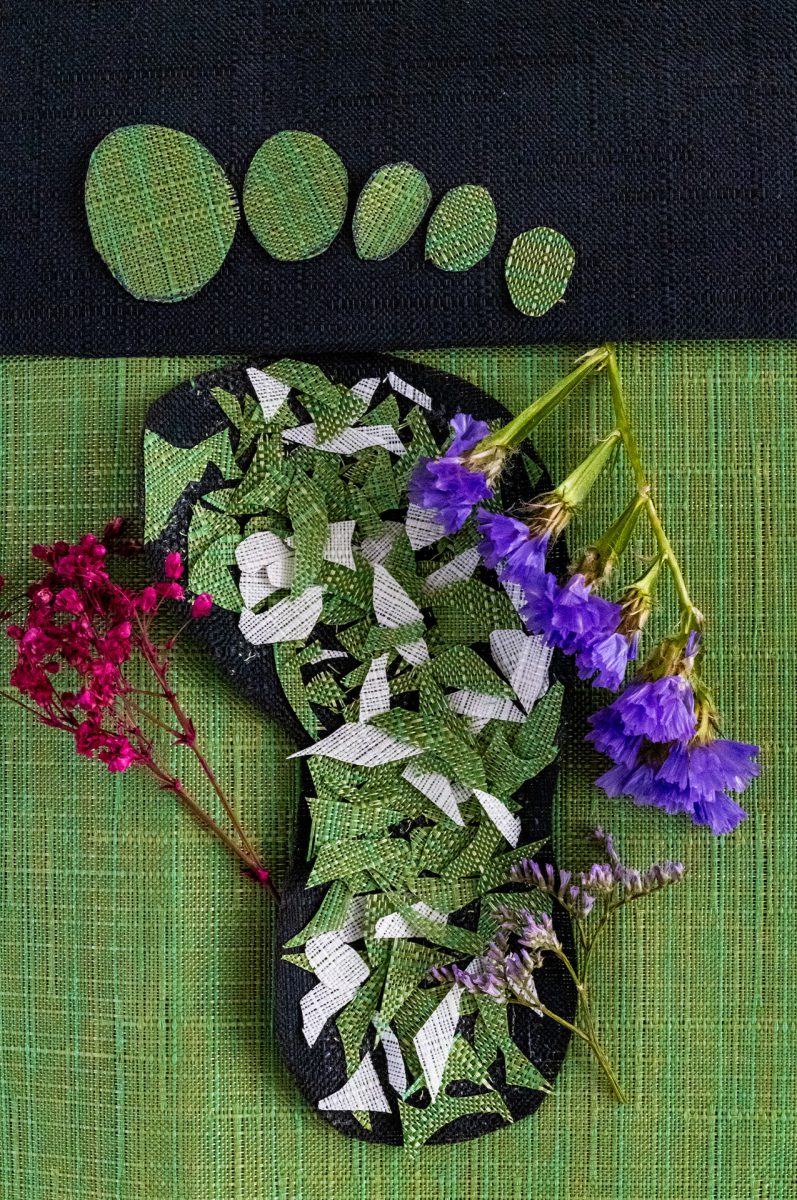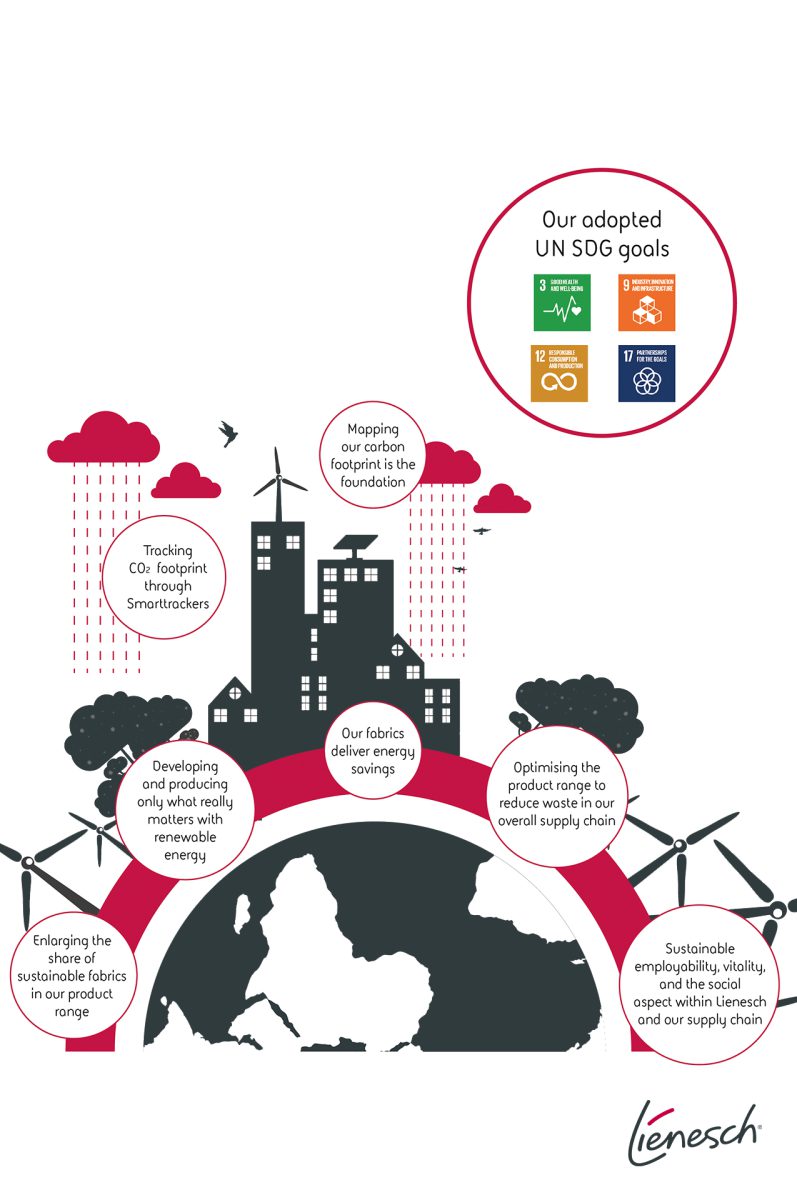 united nations sustainable development goals
Lienesch has adopted 4 of the 17 Sustainable Development Goals (SDGs) of the United Nations.
3 Good Health and Well-Being:
Ensure healthy lives and promote we well-being for all, at all ages. This applies not only to all our employees but also to all consumers who use our fabulous fabrics.
9 Industry, Innovation and Infrastructure:
Build resilient infrastructure, promote inclusive and sustainable industrialization and foster innovation.
12 Responsible Consumption and Production:
Ensure sustainable production patterns and consumption. Doing more with less is exactly what we as Lienesch have committed to. We are committed to reduce waste in our total supply chain, increase the sales share of products made from (post-consumer) recycled polyester and continue to offer sustainable solutions.  
17 Partnership for the Goals:
Strengthen the means of implementation and revitalize the global partnership for sustainable development. As chain director, Lienesch works together with partners with whom we have a long-term, lasting relationship and with whom we share our sustainable view of achieving a better future for all.
Lienesch products carry the appropriate certifications for the intended use of the fabrics. The certification bodies independently test and verify the safety of products and their production processes for health and the environment.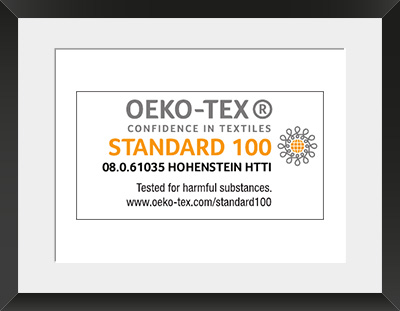 Oeko-Tex®
German originated Standard 100 by OEKO-TEX® is one of the world's best-known labels for textiles tested for harmful substances. It stands for customer confidence and high product safety. The Standard 100 by Oeko-Tex aims at making it obvious to consumers that the labeled textile products have undergone laboratory testing for a wide range of harmful substances, and that the content of those substances remains below the limit values established by the Oeko-Tex Association.
Read more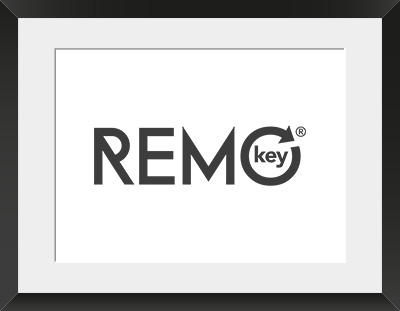 Remokey®
REMOkey calculates, labels and visualizes the benefits of your use of recycled materials. Providing you with a clear and effective 'messenger' to inform your customers and express your environmental savings. To determine the definite percentage of recycled content in your product, we map the products journey throughout the supply chain. Starting with the origin of the recycled fibers, followed by the production of yarns and fabrics and ending at the manufacturing stage of the product. Using recycled materials instead of 100% virgin raw materials makes a significant difference. Based on the final fabric composition and confirmed percentage of recycled content, we calculate and show the indicated impact reduction.
Read more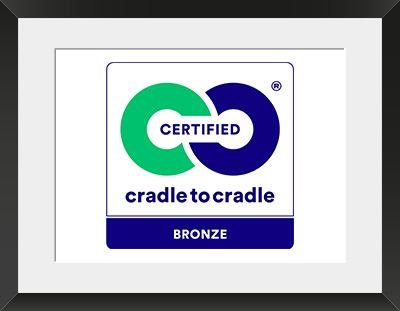 Cradle to Cradle Certified®
Cradle to Cradle Certified® is the global standard for products that are safe, circular and responsibly made. Leading brands, retailers, designers and manufacturers across the value chain rely on the Cradle to Cradle Certified Product Standard to ensure the impact of their products on people and planet is a positive one. For more than a decade, Cradle to Cradle Certified has been helping companies to innovate and optimize materials and products according to the world's most advanced science-based measures. Cradle to Cradle Certified assesses the safety, circularity and responsibility of materials and products across five categories of sustainability performance: 1.Material Health: ensuring materials are safe for humans and the environment 2.Product Circularity: enabling a circular economy through regenerative products and process design 3.Clean Air & Climate Protection: protecting clean air, promoting renewable energy, and reducing harmful emissions 4.Water & Soil Stewardship: safeguarding clean water and healthy soils 5.Social Fairness: respecting human rights and contributing to a fair and equitable society A product receives an achievement level in each category — Basic, Bronze, Silver, Gold, or Platinum — with the lowest achievement level representing the product's overall mark. Meaning C2C bronze (our True Clear Alu) Material Health •The product is at least 75% assessed (by weight) using ABC-X ratings. Externally Managed Components (EMCs) are considered assessed and contribute to the overall percentage of the product that has been assessed. Products that are entirely Biological Nutrients in nature (e.g., cosmetics, personal care, soaps, detergents, etc.) need to be 100% assessed. •A phase out or optimization strategy has been developed for those materials with an X rating. Material Reutilization •The product has a Material Reutilization Score that is ≥ 35. Renewable Energy and Carbon Management •A renewable energy use and carbon management strategy is developed. Water Stewardship •A facility-wide water audit is completed. Social Fairness •A full social responsibility self-audit is complete and a positive impact strategy is developed (based on UN Global Compact Tool or B-Corp).
Read more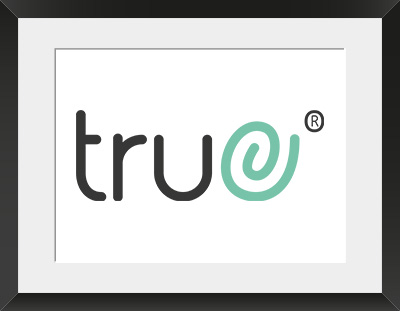 True®
True® is a fair and transparent label for window decoration fabrics and is only applied when we are sure that it meets all the sustainability criteria. Fabrics labelled with the True® logo, are genuine, sustainable fabrics. Products with this label are real products. Made with fair, traceable materials and honest manufacturing processes. And most of the time, they are made from post-consumer recycled polyester. With which we make a real contribution to the future of our planet and its inhabitants.
Read more
Greenguard
US certification program. Products that have achieved GREENGUARD Certification are scientifically proven to meet some of the world's most rigorous, third-party chemical emissions standards, helping to reduce indoor air pollution and the risk of chemical exposure, while aiding in the creation of healthier indoor environments.
Read more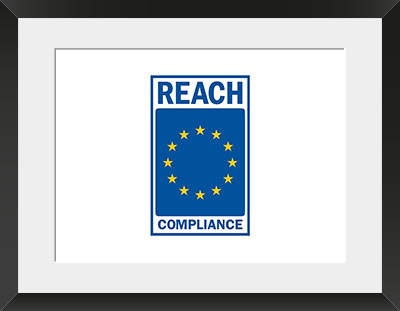 Reach Compliance
A REACH Certificate of Compliance is a document certifying that a product is compliant with European Union's (EU) REACH regulations. REACH stands for Registration, Evaluation, Authorisation and Restriction of Chemicals REACH is a regulation of the European Union, adopted to improve the protection of human health and the environment from the risks that can be posed by chemicals, while enhancing the competitiveness of the EU chemicals industry. It also promotes alternative methods for the hazard assessment of substances in order to reduce the number of tests on animals. In principle, REACH applies to all chemical substances; not only those used in industrial processes but also in our day-to-day lives, for example in cleaning products, paints as well as in articles such as clothes, furniture and electrical appliances. Therefore, the regulation has an impact on most companies across the EU. REACH places the burden of proof on companies. To comply with the regulation, companies must identify and manage the risks linked to the substances they manufacture and market in the EU. They have to demonstrate to ECHA how the substance can be safely used, and they must communicate the risk management measures to the users. If the risks cannot be managed, authorities can restrict the use of substances in different ways. In the long run, the most hazardous substances should be substituted with less dangerous ones. REACH stands for Registration, Evaluation, Authorisation and Restriction of Chemicals. It entered into force on 1 June 2007.
Read more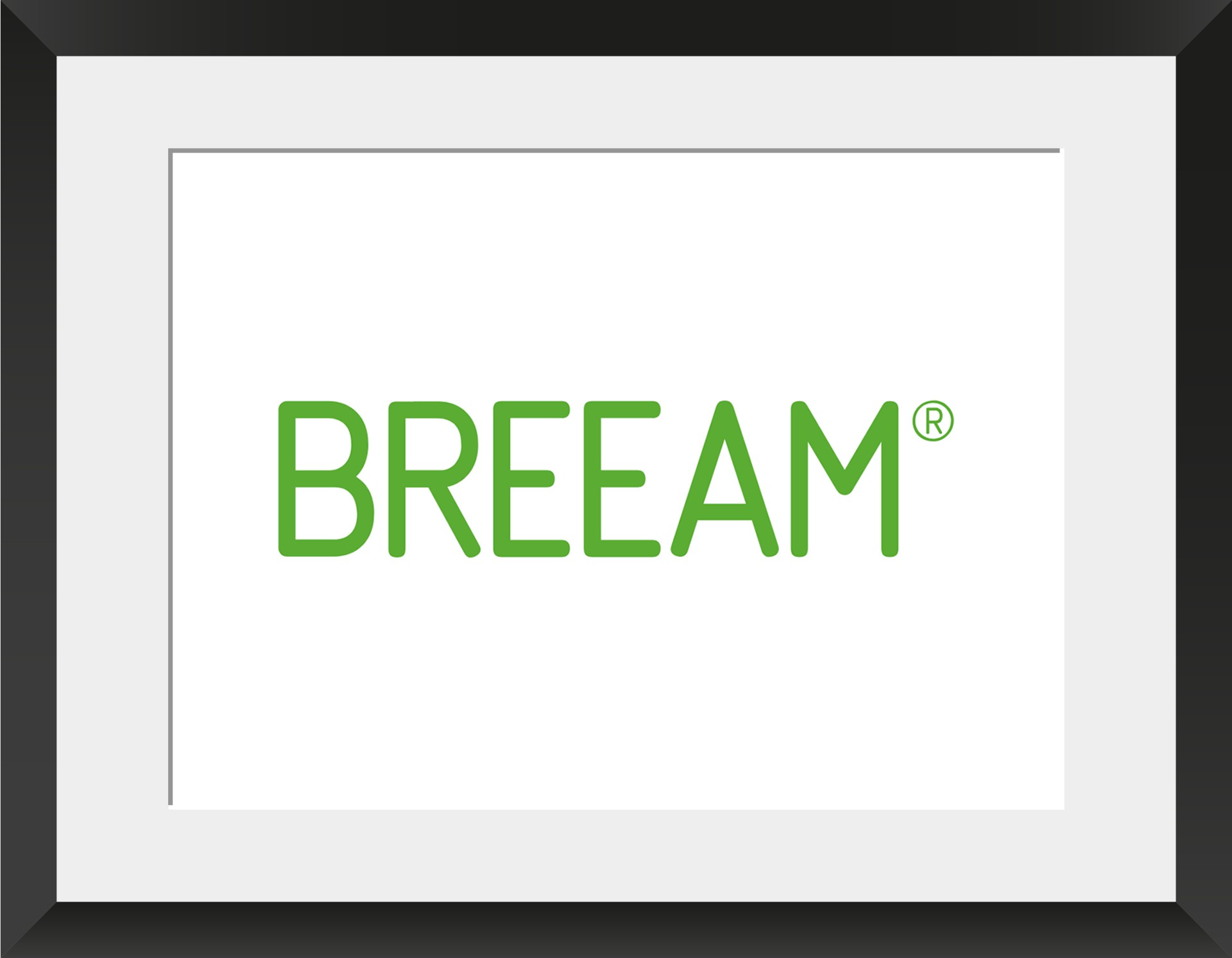 BREEAM
BREEAM stands for Building Research Establishment Environmental Assessment Method and is the certification method for a sustainable built environment. With this method, projects can be assessed on integral sustainability. The method was developed by the Building Research Establishment (BRE) and is now used in more than 80 countries worldwide. In total, nearly 600,000 projects already have a BREEAM certificate. Why Use Environmental Assessment Methods? The world is currently undergoing the largest wave of urban growth in human history. Did you know that the equivalent of Paris is added in floor space every 5 days and that of Japan every year until 2060? Buildings are responsible for nearly 40 per cent of global greenhouse gas emissions and are therefore a major contributor to climate change [source]. A significant increase in the rate of existing building energy efficiency renovations and the generation and procurement of renewable energy is required to meet emissions reduction targets set by the Paris Agreement by 2030. While challenging, there is still time to achieve the Sustainable Development Goals and follow the roadmap of the European Green Deal – if we act now. Environmental assessments methods, such as BREEAM, have the aim to reduce the impact of buildings on the environment through the early design and development stages, construction stage and the building's life span. Not only does BREEAM determine a building's level of sustainability, but also the economic, environmental and social benefits that it has for the people linked to the life cycle of that building. We get more into that in our article about the benefits of BREEAM assessments.
Read more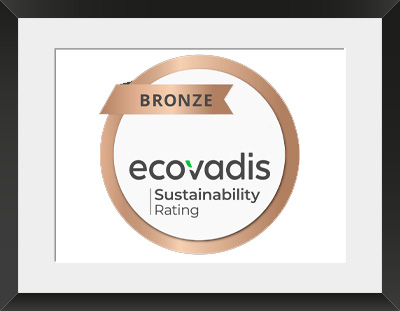 Ecovadis Bronze
Lienesch holds an Ecovadis Bronze rating. The objective of the EcoVadis methodology is to measure the quality of a company's sustainability management system through its policies, actions and results. The assessment focuses on 21 sustainability criteria that are grouped into four themes: Environment, Labor & Human Rights, Ethics and Sustainable Procurement.
Read more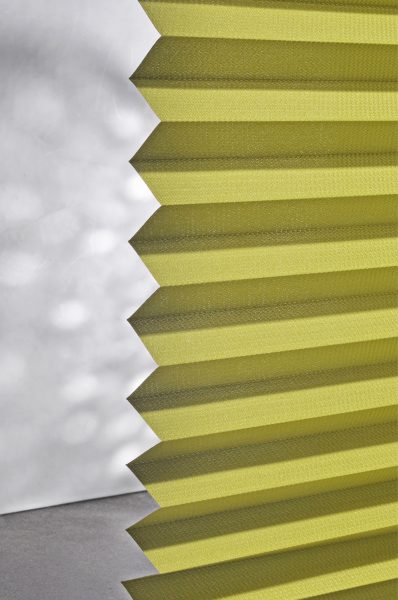 True® Salerno is made of 100% post-consumer recycled polyester yarns. The shantung character, created by a structured weaving pattern gives the fabric its beautiful look that matches any interior style. True® Salerno has a natural and pure feeling, and is available in sixteen commercial subtle colours.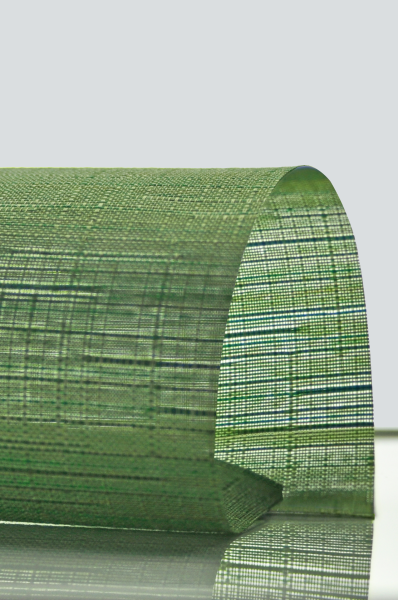 The transparent fabric True® Positano is made of 100% post-consumer recycled polyester yarns. The Shantung effect enhances the structure of the fabric. By using uni-coloured as well as multi-coloured yarns in the weft, a lively colour pattern is created. The fabric has an elegant, slightly shiny, look that matches any interior. True® Positano is available in four colours.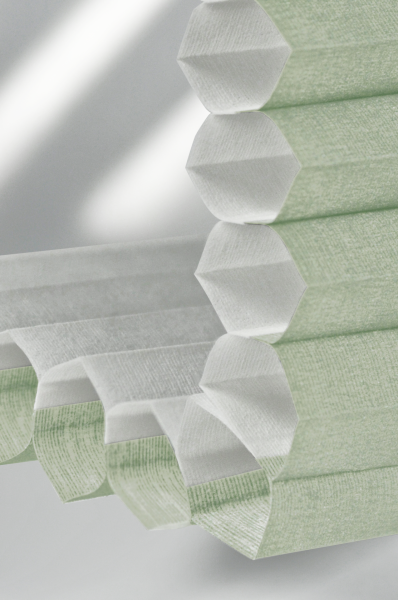 Semi-transparent honeycomb fabric True® Dorval FR is made of post-consumer recycled polyester and beautifully filters the incoming day light. On top of the sustainable benefits of this fabric, this fabric is flame-retardant according to the European B1 standard. True® Dorval FR is also available as black-out fabric in nine timeless colours and in various cell sizes.
True® is a fair and transparent label for window decoration fabrics and is only applied when we are sure that it meets all the sustainability criteria. Fabrics labelled with the True® logo, are genuine, sustainable fabrics. Products with this label are real products. Made with fair, traceable materials and honest manufacturing processes. And most of the time, they are made from post-consumer recycled polyester. With which we make a real contribution to the future of our planet and its inhabitants.